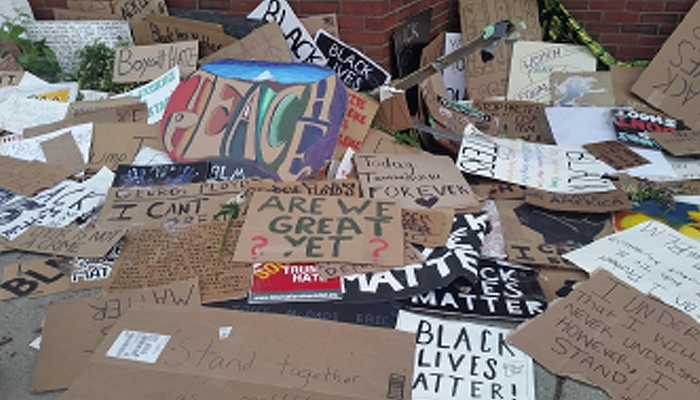 While the issue of racism in America is nothing new, recent protests around the country have brought it into the mainstream conversation in an unprecedented way. People from all walks of life are pausing to better understand the role they may be playing in upholding systemic racism.
In light of the Black Lives Matter movement, businesses are also reevaluating their role in perpetuating racism.  Many of the voluntary Environmental, Social, and Governance (ESG) reporting frameworks companies use to prepare reports about their sustainability efforts contain disclosures about diversity, equity, and inclusion (DEI). Investor rating agencies and analysts regularly include DEI in their questionnaires and scores for publicly traded companies.  But how have those questions and scores translated into DEI being integrated into business practices? Have efforts to diversify boards and staff in corporate America been effective? If so, have DEI initiatives been effective for all underrepresented groups, including Black employees?
There is evidence that a focus on DEI is starting to work for some groups.  According to McKinsey's 2019 Women in the Workplace study, there have been slight increases in the percentage of women at each level of employment (entry level to C-suite).  For example, the percentage of women at the C-suite level increased from 17% to 21% from 2015-2019, a small but important move in the right direction.  However, according to the study, Black women face more barriers to advancement, get less support from managers, and receive less sponsorship than other women, resulting in Black women being more likely to leave than other groups of women.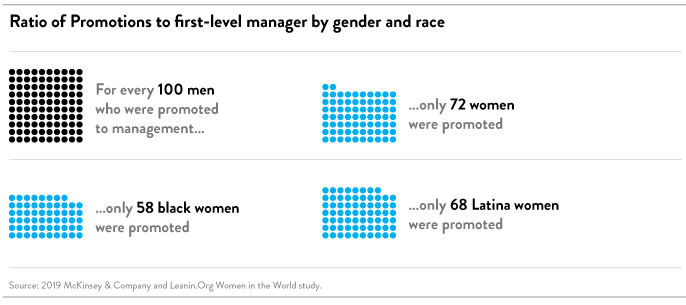 Statistics from the 2020 Fortune 500 released in May also underscore the trends for Blacks in corporate America, especially Black women.  Of the 500 companies on the list, only 4 have Black CEOs – that's just 0.8%. And all of them are men.
The problem of racial diversity persists in corporate boardrooms as well.  In 2018, just 16.1% of board seats in the Fortune 500 were held by nonwhite individuals, according to the Alliance for Board Diversity, compared to 40% of the US population that is nonwhite.
So why are there still so few Black leaders at the top of these large companies? What about employees at all levels of the company?
Based on our experience working with companies on their ESG and CSR strategies, we know many companies have been aware of the need for, and the benefits of, diversity in their ranks and a culture of inclusion. But they have struggled to change their practices and culture in a way that works for all historically disadvantaged groups, especially Blacks.
According to a 2019 study by the Center for Talent Innovation, Black employees are six times more likely than white employees to feel that someone of their race or ethnicity would not reach a top position. The same study also notes the importance of not lumping all people of color into one group. Black employees are more likely than Asian or Latinx employees to encounter racial prejudice at work. Also, the differences in heritage among Black employees (African-American, African immigrants, Afro-Carribean) can impact how they are treated.
These statistics suggest that broad diversity efforts are not enough. Corporate DEI initiatives will benefit from considering both shared and nuanced experiences of different genders, races, and ethnic groups so they can reach all employees and potential employees.
And, as statistics from the McKinsey report below demonstrate, companies need to ensure that managers are not just trained and aware of the issues that underrepresented groups face, but held accountable for actively working to address diversity and inclusion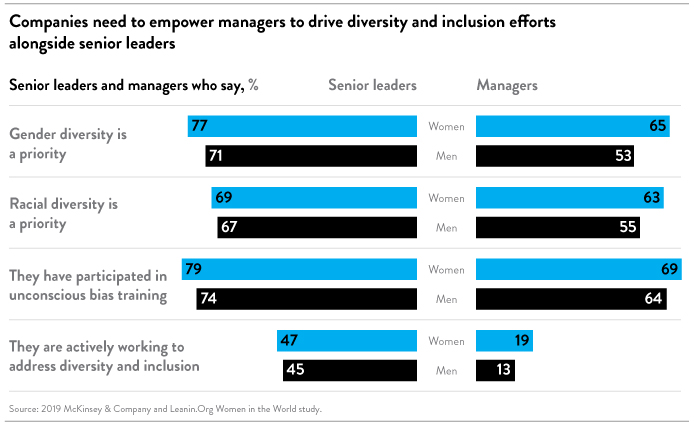 Where to start?
The Center for Talent Innovation offers a framework for companies to develop transformative solutions.
Audit – Understand the current state for Black employees at your company
Awaken – Reflect, absorb, and then awaken through conversation
Act – Co-create solutions and achieve outcomes collaboratively
This framework makes sense to us in the context of broader ESG stakeholder engagement trends and models for developing enhanced sustainability policies and initiatives. Many of the companies we've worked with have begun their DEI journeys by surveying or conducting focus groups to listen to their employees. They have formed teams to reflect and analyze feedback and to work on creating a more inclusive culture in the workplace. They have enhanced new employee recruitment processes and some have created intentional leadership and career development programs for employees who are underrepresented in management.
Change will not happen overnight.  But it must start somewhere. We at SustainabilityNext are reading, learning and in dialogue with our networks to advance our personal and professional journeys to become anti-racist. We stand by organizations that are committed to undoing racism and gender bias and we are here to support those efforts.

Copyright | SustainabiltyNext 2020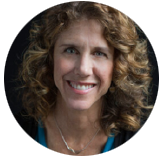 Ann Tartre is founder and principle of SustainabilityNext, a sustainability consultancy in Portland, Maine. She is also a strategic partner of Curran & Connors and has supported us in numerous sustainability communications projects.