Hauppauge, New York, May 19, 2017—Curran & Connors, Inc., a leading producer of digital solutions, corporate reports and branding, was a big winner at the 2017 American Web Design Awards™ sponsored by Graphic Design USA (GDUSA). The annual showcase highlights the best in web, interactive and UX design.
"With an increasing amount of great work being done by agencies and individuals around the world, there's tremendous satisfaction in receiving this type of recognition once again," said Jeff Brandi, Curran & Connors' Vice President of Interactive Operations.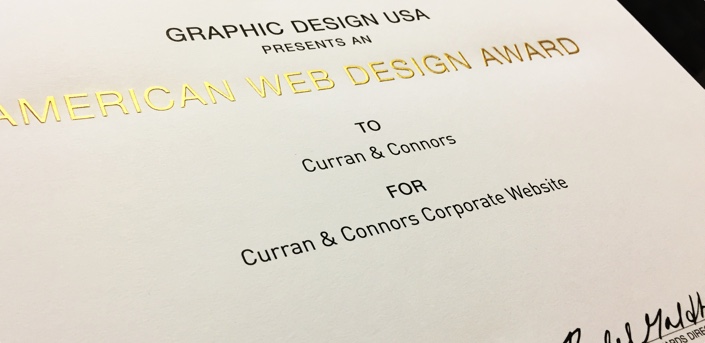 The Company was honored with 10 GDUSA awards, including for its own redesigned website. Other recognized projects included the following:
Gainesville Regional Utilities Water Report—2016 Annual Report
Hi-Crush—Corporate Website
Koppers—2015 Sustainability Report
Lowe's—Lowe's Ventures Microsite
ManpowerGroup—2015 Annual Report
Ramco-Gershenson Properties Trust—Your Walking Club Microsite
United States Olympic Committee—2015 Annual Report
VH1 Save The Music Foundation—Contest Website
Xtreme—Corporate Website
"Designing memorable interactive experiences is the result of a committed and thoughtful collaboration between our talented team and trusting clients," said Brandi. "We're all incredibly proud of this accomplishment and will keep pushing forward."
---
Curran & Connors, Inc. is a full-service, creative agency specializing in corporate reporting, communications, branding and digital solutions. For more than 50 years, we have helped organizations tell their unique stories through a range of targeted solutions. C&C has design studios in New York, Florida and California, with account executives across the U.S. For more information about Curran & Connors, please visit www.curran-connors.com.
Media Contact: Lauren Gonser—lgonser@curran-connors.com