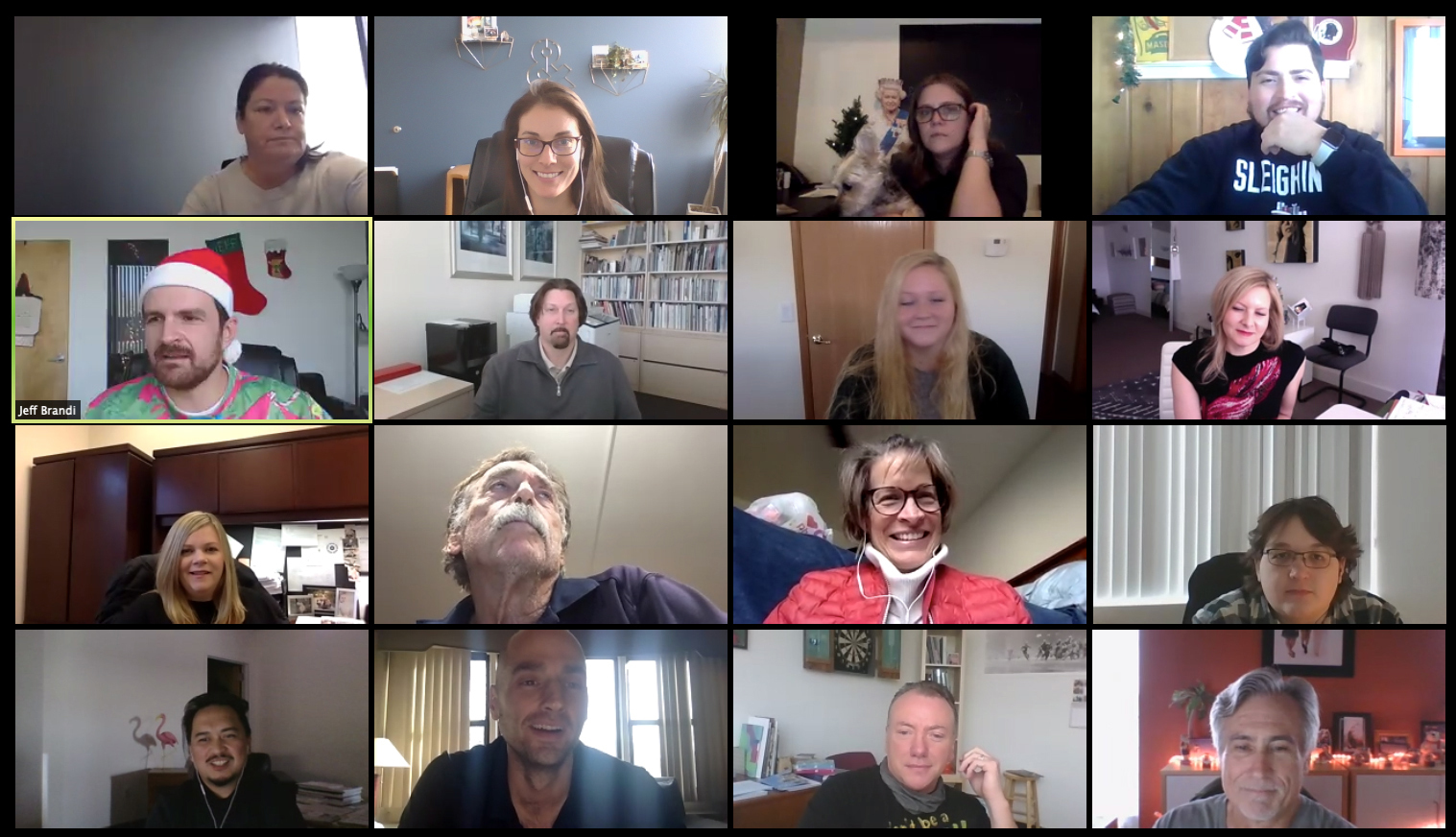 We asked our Executive Vice President of Sales & Customer Experience, Barbara Koontz, and our Chief Creative Officer, Jeff Brandi, to share their year-end thoughts on an unforgettable 2020.
January through April
Jeff: The start of a new year always brings a sense of optimism. With a strong 2019 in the books, there was a lot for us to look forward to in 2020. As we returned to the office after the holiday break, the design, production, and interaction with our clients progressively kicked into high gear as it normally does. Heading into March though, not everything felt like business as usual. Each daily report of the new coronavirus sweeping the nation brought more questions and concerns. Along with the rest of the country, we found ourselves opening doors with our elbows, washing our hands with more intensity, and watching in desperation as Lysol wipes became a hot commodity. And we wondered if we would be forced into a shutdown right before our annual reports got to the finish line. When one of our clients, the NBA, suspended their season, the dominoes rapidly began to fall and we knew a shutdown was imminent. The pressure to complete projects accelerated. Frequent calls to our print partners to see if they would continue operations ensued. The scramble to set everyone up for full remote access became a top priority, and contingency plans with vendors got underway. The normal stresses of March's past were no match for the anxiety-ridden curveball 2020 threw at us. Yet through it all, we strived to present a calm and confident face to our clients. March turned to April and one-by-one jobs were completed without a hitch. We accomplished this while homeschooling our kids, cats were climbing on our keyboards during Zoom meetings, and in the worst of cases, losing loved ones. This was a test unlike any other, and once again, with the support of ownership prioritizing health above all else, and the dedication of our amazing team and partners to serving our clients, we endured.
May through July
Barbara: May is usually when we see light at the end of the tunnel: annual reports are mostly delivered, and we can steer our thoughts to other projects. Thanks to the tremendous hard work of our clients, employees, and vendor partners, we met our obligations, were able to take a little break, and could start thinking about summer projects. But the COVID situation was getting worse with each holiday and, in looking back, it felt like we were moving in slow motion. It was tough to gain traction when we didn't know where our customers were, if they were healthy, and what business needs were on their minds. In the end, we decided to focus our efforts on much-needed content. If we couldn't reach out to our base because they were working remotely, we could at least have good content on our web site for them to freely access. We worked with writers on white papers, designers on helpful infographics, and developed best practices lists and toolkits. We even developed a financial literacy program called Annual Reports for Kids that promotes easy to understand annual reports for kids, so they have the skills to invest when the time is right. It was an unusual summer, for sure, but looking back I am proud of all we accomplished.
August through October
Jeff: As fall approached, our creative team began to safely return to the office full-time. Seeing familiar faces and settling back into routines was comforting. Sharing personal experiences and challenges from the quarantine allowed us to connect with our co-workers in a more meaningful way. It also helped us examine the way we operate, leading to technology investments and process refinements that will improve the way we do business. Change is never easy, but the team understood the bigger picture and cooperated without complaints despite some hiccups along the way. One thing that has never changed is our ability to deliver top-notch creative. We were honored to learn that our work was recognized with an astounding 24 design awards, including the most wins of any entrant in the GDUSA American Web Design Awards. Not only was there great pride among our team, but the enthusiastic response from our clients was unlike any we could recall. After months and months of difficult news, it was extremely gratifying to share some positive news. Creating stronger bonds with each other and with our clients is something we are all grateful for.
November through December
Barbara: It's not a novel thought, but while I am forever grateful for our company, our clients, and our partners, I'm looking forward to the new year and a fresh start with a vaccine on the horizon. The year at Curran & Connors is ending with a nice flurry of business, much of it geared towards ESG communication. In fact, 2020 should be called the Year of ESG. Blackrock's Larry Fink was a catalyst with his famous letter to corporate CEOs where he mandated the adoption of specific frameworks to capture a full picture of corporate risks and opportunities associated with investments. COVID and the civil inequities we have experienced have shone a spotlight on these important issues. It is gratifying to be on the side of communicating the many changes that companies are embedding in their culture. May these changes, and an effective vaccine (or two or three), be just the beginning of a peaceful and prosperous 2021 for all.